E-recruitment data for your ATS
ATSi uses StepStone's job seeker data to deliver a seamless user journey whilst minimizing candidate drop off throughout the job application process.
By mobilising candidate data, ATSi drives up to 400% more applications to the hiring company.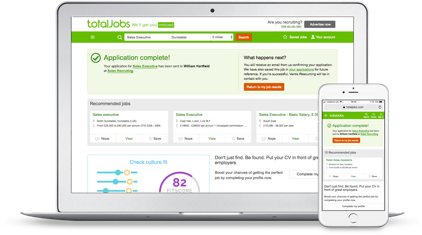 SIMPLIFYING THE JOBSEEKER JOURNEY
Ease of integration whatever the ATS platform
See your ATS applications increase by up to 90%
Reliable Customer Service
Dedicated product management and technical resource
Frequently asked questions
What is ATSi Apply?
ATSi Apply is a product enhancement specifically designed to improve the application performance of your Applicant Tracking System. It does this by transferring candidate details and CVs to your ATS. This reduces the amount of time and effort taken for a jobseeker to apply to your client's job advert. If your ATS is not integrated, the jobseeker may not complete the application as they find it too tedious. Whether applying on mobile, tablet or PC, ATSi Apply can increase your conversion rate to as much as 100%.
How does it work?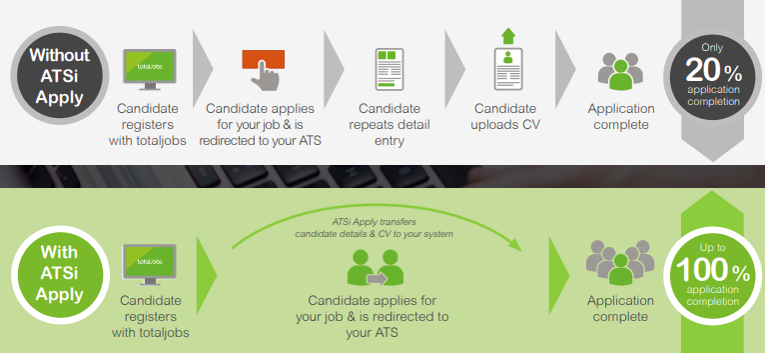 What are the benefits to me?
You will be providing a more fortuitous ATS service for your customers.
Your ATS will be at a clear advantage in a very competitive market.
StepStone UK will be able to share our latest technological improvements with your business.
What are the benefits for my customers?
Your customers will experience increased applications from candidates who may not have completed their application.
Jobseekers who complete their application will leave with a better impression of your customer's business.
Your customers will enjoy far greater value for money from both their job board and ATS provider.
Are we able to test service performance?
We are able to demonstrate the performance of your API connection using a job board template facility.
Will I need to change my API?
Our recommendation is to use our API, however if you would prefer to use your API, this is possible, and we will evaluate whether or not it fits with our application model. Please contact atsiapply@stepstone.co.uk and provide us with your technical details and specification for more information.
What is static endpoint?
A static endpoint is a service published under one address that is able to accept every application for any job posted.
What is job URL?
A URL (or Uniform Resource Locator) is most commonly referred to as a web address, however it is actually a resource allowing for file transfer (ftp), email (mailto), Database Access (ATSi), and of course web page referencing (http).
Can I redirect the jobseeker to my page?
This is possible, however we recommend to keep the jobseeker on our website to provide a transparent and seamless experience that today's candidates expect; with a simple and intuitive application experience.
Will I be provided with reporting and analytics to track ROI?
Yes! Monthly reports will be sent via email detailing the number of applications received and other very useful information.
When did you launch ATSi as a product?
We launched the product in January 2015. We are constantly working on its enhancements. Please check
the developer's site
for details.
We worked with totaljobs on recent integrations with their super ATSi Apply integration for two of our shared clients in the hospitality industry. The team are excellent to work with and the integration was up and running in no time. More importantly, our clients are delighted with the new feature and are already noticing a huge upturn in applications. I look forward to working with Totaljobs Group and using ATSi Apply for more mutual clients' going forward.
Steve Richards
Senior Client Account Manager
Peoplebank